Stuffed Mushrooms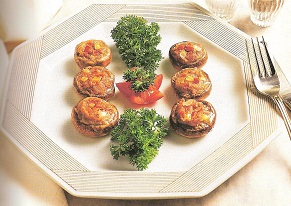 Ingredients for 4 people
12 medium mushrooms
200 g serrano cured ham
   Parsley  
Olive Oil
Ground pepper and salt

Stuffed Mushrooms (Champiñones con jamón)
Cut stalks off mushrooms, leaving only the head.
Chop serrano ham into smal cubes and parsley very fine.
Pour olive oil into a frying pan, when hot, put the ham cubes for a couple minutes. Season with salt anf ground pepper.
Put mushrooms in an ovenproof dish, stuff with ham and parsley.
Put in the oven medium/high for 20 minutes. Serve hot.