Cod Fritters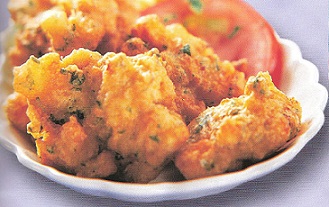 Ingredients for 4 people
  200 g cod
1 cup beer
1 spring onion
150 g flour
Parsley
Lemon
Olive Oil
Salt
Cod Fritters (Buñuelos de Bacalao)
Chop the cod in very small pieces, until get crumbled cod.
Pour beer into a wide bowl. Gradually add flour and salt and stir well.
Make a smooth paste, then add finely-chopped onion, parsley and cod. Stir again.
Heat plenty of olive oil in a frying pan, when hot, use spoon to scoop up portions of the paste and place in oil.
Fry until golden. Drain on kitchen towels and serve with slices of lemon.