Batter Fried Hake Cube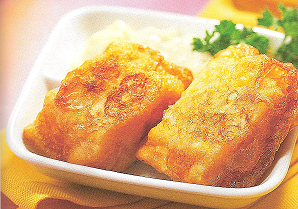 Ingredients for 4 people
250 hake fillets
2 eggs
   4  tablespoonsful flour   
Olive Oil
Salt
Batter Fried Hake Cube (Taquitos de Merluza Rebozada)
Wash and dry fish, then cut into pieces more or less the same size. Beat eggs in a deep plate with salt.
Heat plenty of oil in a frying pan. Dip the flour, the egg, and fry in oil until golden.
Remove fish, place on kitchen towel and serve hot.