Paella Course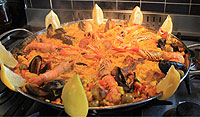 Paella is a Valencian rice dish made with Bomba rice, vegetables, meat, fish, seafood, olive oil, saffron and many other ingredients. Many non-Spaniards view paella as Spain's national dish.
Paella usually has a layer of toasted rice at the bottom of the pan (paella pan) called socarrat in Spain. This is considered a delicacy there and is essential to a good paella.
Once the aroma of toasted rice wafts upwards, the paella pan should be removed from the heat. The paella must then sit for about five minutes covered with a  kitchen towel at this point to absorb the remaining stock. You will love Paella!
Contents:
 · Valencia Paella

(Paella Valenciana)
Dinner or Lunch at the end of the course. Sodas, regular and gluten free beer or Spanish wine is included.
This Paella is GLUTEN FREE.

Duration: 2 hours.
Price: 55.00 € per person.
5% off if you buy more than 1 course at once for the same date — enter the following code: discount5 on checkout.
Maximum 6 people per course.
To return to the Cookery School page click here.